Death Watch And The Continuous Katherine Mortenhoe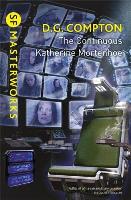 The 1980 film, Death Watch, directed by Bertrand Tavernier and starring, among others, a young Harvey Keitel,  was re-released in the UK in June this year, in a digitally restored print.  The re-release garnered many positive reviews from the likes of The Guardian, The Irish Times and Cine-Vue, with critics proclaiming it intriguing, compelling, prescient and 'an oft-forgotten cult masterpiece'.
We draw your attention to this because Deathwatch is based on the seminal SF novel The Continuous Katherine Mortenhoe (published in the US as The Unsleeping Eye) by D.G. Compton, which is published tomorrow as an SF Gateway eBook and an SF Masterworks paperback.
A few years in the future, medical science has advanced to the point where it is practically unheard of for people to die of any cause except old age. The few exceptions provide the fodder for a new kind of television show for avid audiences who lap up the experience of watching someone else's dying weeks. So when Katherine Mortenhoe is told that she has about four weeks to live she knows it's not just her life she's about to lose, but her privacy as well.
D.G. Compton was nominated for the Nebula Award for his 1970 novel, The Steel Crocodile, and was awarded the Author Emeritus honour by the Science Fiction and Fantasy Writers of America, in 2006. His books, out of print for too long, are now available again from the SF Gateway.