Fantasy Faction Sci-Fi Book Club
We've just noticed that the excellent Fantasy Faction's Sci-Fi Book Club choice for May is none other than Frank Herbert's epic Dune.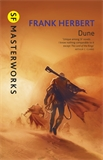 Frequently topping polls of the best/most popular SF novel of all time, Herbert's magnum opus was first serialised in Analog magazine (previously Astounding Science-Fiction) as 'Dune World' (December 1963 to February 1964) and 'The Prophet of Dune' (January to May 1965), before being consolidated into the novel we know and love in 1965. It won the first Nebula Award for best novel in 1966 and shared the best novel Hugo the same year.
Dune is a novel that repays multiple re-reads (as opposed to the film, which . . . er . . . doesn't!), so we're delighted to see Fantasy Faction choose it for their book club. If you'd like to join in, you can find details here; and, of course, if you need a copy of the book to read, Dune is available as an SF Masterworks hardback and an SF Gateway eBook.
As ever, if you want to know more about Frank Herbert, we recommend his entry at The Encyclopedia of Science Fiction.