Eon . . . Eternity . . . Legacy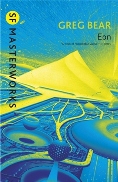 The redoubtable Richard Curtis – literary agent extraordinaire and eBook pioneer – has posted an appreciation of Greg Bear's epic 'Eon' trilogy, at his E-Reads site. 
Since Gollancz and SF Gateway are proud to publish Greg Bear in the UK & Commonwealth, and since Bear is one of our foremost hard SF writers and the son-in-law of the legendary Poul Anderson, we felt these were words worth drawing attention to. You can read Richard's post here.
Greg Bear's 'Eon' trilogy is comprised of:
Eon (SF Masterwork | eBook)
Eternity (paperback | eBook)
Legacy (eBook) 
All of the above, as well as a considerable amount of Poul Anderson's work, are available on the SF Gateway.