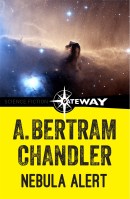 The Iralians were humanoid and techically free citizens of the Galactic Empire. But as slaves they were prized above all others, for they had the unique capacity to transmit acquired knowledge through heredity. And so when the space mercenary Wanderer was hired by GLASS (Galactic League for the Abolition and Supression of Slavery) to take a cargo of Iralians home it was going to be a simple task!

For one thing, they'd be hunted by interstellar slavers for their priceless passengers.

For another, the Iralians themselves had other ideas which included mutiny and high treason.

And for the third and worst, they were too close to the Horsehead Nebula, whose capacity for warping time, space and the dimensions was a permanent Red Alert for all spacecraft.