Editors' Choice: Pat Cadigan's Patterns
Pat Cadigan should need no introduction to anyone serious about science fiction. She has twice won the prestigious Arthur C. Clarke Award – in 1992 for Synners, and then again in 1995 for Fools – and has been shortlisted multiple times for the Hugo, Nebula, Philip K. Dick, BSFA, World Fantasy and Theodore Sturgeon Awards, among many others. Her work has been praised by such luminaries as Neil Gaiman, William Gibson and Bruce Sterling, and fellow Arthur C. Clarke Award-winner Paul McAuley wrote an astute review of Fools on this very blog.
Fine novels, both, but this week's editors' choice changes gears a little and presents Pat's first collection, Patterns. Here are fourteen stories showcasing her considerable talents and including the fascinating 'Roadside Rescue', originally published in Omni in 1985, but recently adapted for audio by the excellent Escape Pod SF podcast magazine.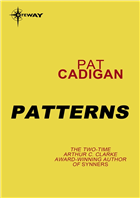 So, if you're undecided as to whether or not to explore the short fiction of one of our major award-winning authors, you can sample her work for free by clicking here for Stephen Eley's reading of 'Roadside Rescue'.
You know: if our opinion isn't good enough for you.
And you don't believe Neil Gaiman.
Or William Gibson.
Or Paul McAuley.
Or Bruce Sterling.
No, no, that's cool.
We understand.
I guess . . .