On This Day: Frank Frazetta
On this day, five years ago, one of the most influential artists in the fantasy field passed away, in Fort Meyers, Florida.
The Encyclopedia of Science Fiction notes:
A native New Yorker, he studied at the Brooklyn Academy of Fine Arts and, at the age of sixteen, began drawing professionally for Comics. He worked on the comic strips Buck Rogers in the 25th Century, Flash Gordon, and (for nine years) Li'l Abner, and briefly drew his own comic strip, Johnny Comet. He also contributed to comic books published by DC Comics, EC Comics, and other companies; ironically, the most popular Superhero that he drew, DC's the Shining Knight, had his body almost completely covered by armour, in stark contrast to the loinclothed barbarians that would come to define his popular image.
Although he would continue to work in comics until the '60s, Frazetta will forever be identified with book covers. Beginning with cover and interior art for Ace's reissues of Edgar Rice Burroughs' Tarzan books, he practically invented the now-clichéd bare-chested, loin-clothed barbarian warrior. It has been said that the definition of an intellectual is someone who can listen to the William Tell Overture without thinking of the Lone Ranger; if that's so, then surely fantasy art's equivalent is the person who can hear the words 'Conan the barbarian' without thinking of Frank Frazetta.
Frazetta was fantasy art's first superstar. By the end of the '60s he was in demand to paint movie posters and album covers (ask your parents, kids!) as well as book covers, and his style gave rise to a myriad imitators. If a publisher couldn't get Frazetta, their art directors would be instructed to find someone who could imitate his style. In the '80s he worked with Ralph Bakshi to produce fantasy film Fire and Ice. But for your humble correspondent, he will forever be inked with the Hyborean Age: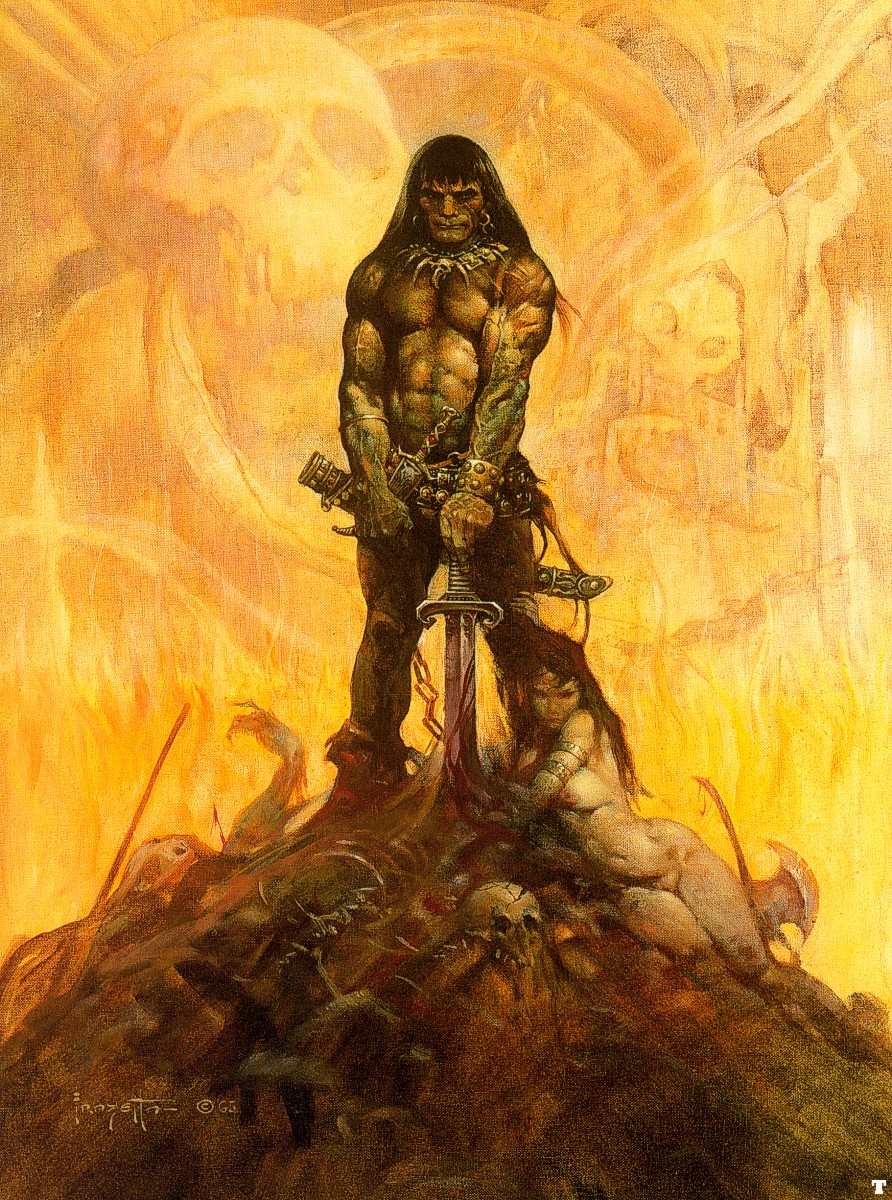 Truly, Frank Frazetta was the first giant to bestride the SFF art world, destined to tread the jewelled kingdoms of lesser artists beneath his sandled feet.