Remembering Robert Holdstock
It is that sad day once again, when we remember one of our great friends who is no longer with us.  Hard to believe it's seven years since Robert Holdstock made his last, final journey into the Wildwood. We still miss him.
Frustratingly, this year's anniversary also coincided with some security updates, which ran over time and locked us out of the blog for almost a week. Access has returned now, but it leaves us with little time to do justice to one of modern Fantasy's great writers in a new post. Rather than go without marking the day, we hope you'll bear with us as we re-post a remembrance from a few years ago . . .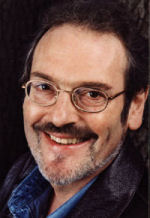 It's three seven years ago, today, that Robert Holdstock passed away. Some four months after the publication of what would be his final novel – fittingly, a Ryhope Wood tale – the fantasy genre lost one of its modern masters, and those of us who were lucky enough to know the man as well as the books, lost a great friend.
Rob was a World Fantasy Award-winner for best novel, with Mythago Wood, and best novella, with 'The Ragthorn', co-written with Garry Kilworth. He won the BSFA Award four times – twice for short fiction, with 'The Ragthorn' and the original 'Mythago Wood' novella, and twice for best novel, with Mythago Wood and sequel Lavondyss. Celtika, his extraordinary tale of Merlin, centuries before the time of Arthur, won the Grand Prix de l'Imaginaire for best novel translated into French.
In 2010, the British Fantasy Society posthumously gave him the Karl Edward Wagner Award for Special Achievement, and earlier this year the same body announced that its best novel award would henceforth be split into two categories: the August Derleth Award for Best Horror Novel and the Robert Holdstock Award for Best Fantasy Novel. I can't think of a better candidate to be permanently associated with the best in British Fantasy.
I'll be raising a glass to Rob, this evening, in memory of great conversations over burgers and Belgian beer, and I'm sure many of you will be remembering him in other ways – not least, by reading or re-reading his wonderful books – but I leave you with this rather haunting tribute I found while gathering links for this post:
The riders had gone, clattering up the path to the castle and the woods beyond. But long after the pyre had burned to ash the boy was still crouched within the shrine cave, following with his gaze the trail of the drifting smoke, out across the forest, to the distance, to the setting sun, to the unknown regions of the west.

He wondered how to journey there.