Gateway Essentials: Kate Wilhelm
We never rest in our ongoing mission to bring the elusive gift of Discoverability to readers of fine classic SF, such as waits to be unearthed on the SF Gateway. Today, it is our signal pleasure to point discerning readers in the direction of Hugo and Nebula Award-winning author, Kate Wilhelm one of the field's most influential authors.
Kate Wilhelm has a reputation as one of the 20th century's finest SF writers. Winner of the Hugo Award for Where Late the Sweet Birds Sang, she has produced an impressive body of work in the fields of SF and crime, and – along with her late husband, Damon Knight – has had a profound influence beyond her writing, through the Milford and Clarion Science Fiction Writers' Workshops.
As, pre-Puppies controversies, the Hugo voters generally got it pretty right, we recommend starting with Where Late the Sweet Birds Sang: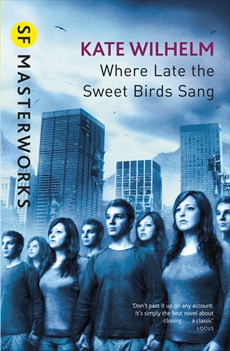 And from there . . .
And, of course, you can find more of Kate Wilhelm's work via her Author page on the SF Gateway website, and read about her in her entry in The Encyclopedia of Science Fiction.