Happy Birthday, Colin Greenland!
Today, we wish a very Happy Birthday to award-winning author and critic Colin Greenland.
Greenland first made himself known to the SF world with his 1983 study The Entropy Exhibition: Michael Moorcock and the UK 'New Wave', a revised version of his PhD thesis. He published his debut novel, the fantasy Daybreak on a Different Mountain, in 1984, and followed that with to further fantasy novels: The Hour of the Thin Ox (1987) and Other Voices (1988).
These works were well-received but it was a move to exuberant space opera that was to make his reputation. Take Back Plenty won the Arthur C. Clarke and BSFA Awards, and began the 'Tabitha Jute' sequence, which was to ocupy him for much of the next decade.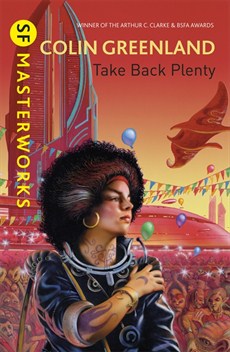 Take Back Plenty is available as an SF Masterworks paperback and a Gateway eBook. You can find more of Colin Greenland's work via his Author page on the Gateway website, and read about him in his entry in The Encyclopedia of Science Fiction.
Happy Birthday, Colin!