Happy Birthday, Robert E. Howard
Robert Ervin Howard was born 22nd January, 1906. Although a published writer for little more than a decade, his influence on the sword & sorcery genre is enormous. He was the creator of a bewildering array of pulp heroes including the puritan adventurer Solomon Kane, the Pictish king Bran Mac Morn, Celtic chieftain Cormac Mac Art, King Kull of Atlantis and, of course, the barbarian warrior in whose shadow all barbarian warriors have since walked: Conan the Cimmerian.
Like fellow-pulp writer Edgar Rice Burroughs' Tarzan, Howard's Conan has spawned a huge number of pale imitations, but it is a mark of the enduring appeal of the character that these imposters are quickly forgotten – if they're even noticed in the first place – while Conan continues to exert a hold over popular culture some eighty years after he first appeared in Weird Tales.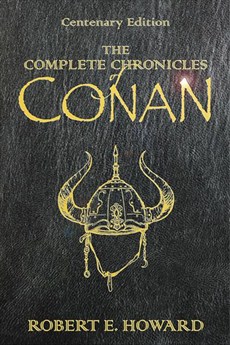 Conan can be found in film, on television, in comics and even in games, but to truly experience the black-haired Cimmerian treading the jewelled thrones of the Earth under his sandalled feet, you really need to read the books. Howard had complete control over his stories and wrote in a style that seemed both mythic and grounded at the one time. Of course the prose is tinged purple on occasion – the fast turnaround time of the pulps almost guarantees that stylistic corners are cut now and then – but there's the sense of a real history and a real world at work in the Hyborean Age, which is something few of Howard's imitators could match.
The other important element of the Conan stories that later writers failed to understand is the morality of the giant barbarian. Of course, Conan dispensed summary 'justice' with his ham-sized fists or his giant sword; of course, he took what he thought should be his, by force of arms; of course, he encountered his fair share of tavern girls. But Conan was always true to his own moral code – certainly in the original stories written by Howard. On one occasion, in which Conan had gone through significant trials to gain possession of a treasure – stolen from a god's shrine, I think (weren't they all?!) – he found himself on an unstable cliff top with his chest of jewels teetering on the edge, a slave girl already over the precipice and hanging on for dear life, and only one of the two within reach. Conan didn't give the treasure a second glance as he sprang to save the girl. There would always be more treasure he reasoned.
Conan always seemed to reach the conclusion of a tale with something to show for it, whether it be as grand as a kingdom won or as simple a pleasure as an ale by a tavern fire. His creator's story, however, did not have a happy ending. On June 11th, 1936, upon learning that his mother would never awake from the coma she had slipped into as her tuberculosis worsened, Robert E. Howard shot himself in the head using a borrowed pistol. A suicide note was later found in his typewriter:
'All fled, all done, so lift me on the pyre;
The feast is over and the lamps expire'