A Gateway Hollowe'en Read
Oooooh . . . Hallowe'en . . . A time for vampires and werewolves and ghosts and monsters . . . oooooh . . .
Except, not really. I mean, not if you want to actually be scared.  The classic monster – Victor Frankenstein's creation – has pretty much lost all power to frighten; it's more a focus of pity than anything else. Vampires have been morphing from figures of fear to objects of desire – arguably since Anne Rice's Interview with the Vampire, maybe longer – and now that they sparkle in the daylight and go to high school, their teeth have been more or less pulled (pun very much intended). Werewolves? Well . . . nice as metaphors but again, they tend to work more as objects of sympathy than terror. I'll give you ghosts, though. There are some really atmospheric and scary ghost stories around.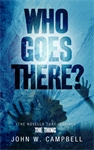 So where does the SF Gateway go for a good dose of the scares?  Well, apart from the 10 O'Clock News, which always seems to have a full quota of horrors, it seems that all the best monsters are human, these days.  Or, at least, that's how they appear . . .
Come back with us to 1938 and one of the most terrifying novellas in SF's history: John W. Campbell's Who Goes There?. Filmed as The Thing – in 1951 (bad) and 1982 (good) – Who Goes There? features an isolated group of scientific researchers in the Antarctic, who stumble across an alien spaceship buried in the ice. They transport the creature back to their base only to find they've unleashed a predatory shapeshifter into their claustrophobic, fragile world. The sense of tension and paranoia induced by Campbell – who would go on to become arguably the most influentical editor in the history of SF – is almost unbearable, and certainly more terrifying than an army of sparkly vampires.
So, if anyone wants to know: that's what we'll be reading this Hallowe'en, before going to sleep. With the light on.
What? It's a perfectly valid precaution . . .