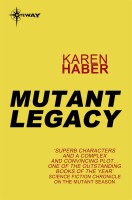 After long years of struggle, the fight for acceptance and equality is over. The mutant clans have fit themselves and their extraordinary talents into the mainstream of human society. But when peculiar phenomena begin in the New Mexican desert – "miracle" cures, supernatural rescues – the issue of mutancy rises once more to the forefront of human affairs. At the center of the conflict are three strong and vastly different personalities, three men who will guide the tides of human destiny – and ultimately the tides of evolutionary destiny as well:

Joachim Metzger – Leader of the mutant clans, desperate to keep the hard-won peace and prosperity his people have finally achieved.

Julian Akimura – The brilliant therapist who banished his twin brother, Rick, in the hopes of saving humanity from his unsurpassed mutant talents.

Rick Akimura – The long-sought supermutant, the promise of whose power has been the building force of mutant society for centuries – and whose coming is nothing that anyone could have foretold.